Wednesday, June 22, 2016
Bruce Peel Special Collections Has Reopened!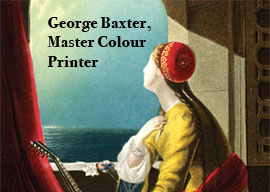 The
Peel library
is once again open, after the completions of a series of renovations to expand the capacity, and improve the security, of our special collections storage space.
Students, faculty, and the general public can once again access materials from Special Collections during
normal hours
. Please submit an online
retrieval request form
at least 24 hours before your visit to ensure that library materials have been retrieved from storage and are available for your use.
Peel library continues to welcome class visits. While the schedule for the fall term is now almost fully booked, we encourage you to contact us to
book a future class visi
t
.
In celebration of the reopening, Peel is hosting two exhibitions. Our
current in-house exhibition
features gorgeous colour prints made by master printer George Baxter and highlights the impressive career of this Victorian period innovator.
Our new
online exhibition
highlights the university's Honorary Degree recipients over the past fifteen years and the special rare books which have been purchased to honour them. It honours the accomplishments of such notable figures as k.d. lang, Wayne Gretzky, His Highness the Aga Khan, and Clara Hughes.